Hire us to clean your building's carpet.
Carpet is a durable material that can add visual interest and comfort to the interior of your office or building. Carpet is also a cost-effective flooring material that is relatively easy to clean and maintain, making it a good option for highly trafficked areas or areas of your building that require a soft surface.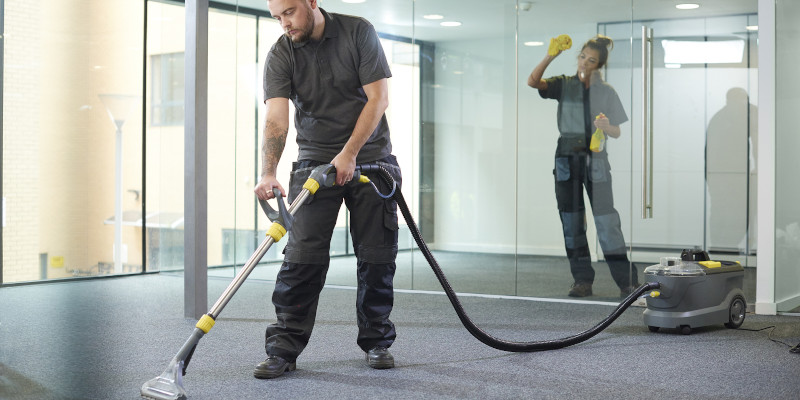 However, to keep your building's carpet in good shape, you need to invest in professional carpet cleaning on a regular basis. At Interstate Contract Cleaning Services, we provide high-quality, effective carpet cleaning services here in the Raleigh, North Carolina area. Businesses have trusted us with their cleaning needs since 1996, and we are ready and waiting to exceed your expectations.
The Importance of Regular Commercial Carpet Cleaning
There are many reasons to make professional carpet cleaning a priority within your workspace:
Maintain a professional image—When employees, customers, clients, and suppliers visit your workspace, you want to make a good impression. Ensuring your carpets are clean and maintained can help you protect your professional image.
Prolong the life of your carpet—Replacing the carpet in your building can disrupt your normal operations. Regular carpet cleaning can help you prolong the lifespan of your carpet, so you won't have to replace it early.
Remove stains—Carpet stains can be difficult to fully remove if not treated quickly. Professional carpet cleaning can help remove tough stains and improve the overall appearance of your flooring.
Improve employee productivity—Workers tend to have higher productivity levels when working in a space that is clean and maintained well. Cleaning your carpets improves the cleanliness of your workspaces, which can improve employee performance.
Preserve your investment—Putting new carpet in your building is an investment. Make this investment last by having your carpets regularly cleaned by our professional cleaning team.
Reasons to Hire Us
There are many reasons to make us your top choice when it comes to carpet cleaning and other commercial cleaning solutions. For starters, we have been cleaning commercial buildings since 1996, so we know which practices and methods get the best cleaning results possible.
When cleaning commercial carpet, we also use innovative equipment that effectively lifts stains, removes dirt and buildup, and improves the appearance of the carpet. This equipment also minimizes drying times, so you can resume your normal operations quickly following every carpet cleaning.
Finally, we are committed to providing the best experience possible when you hire us to clean your building's carpets. We will show up on time, provide great customer service, and leave your building's carpets incredibly clean. Our goal is to exceed your expectations and become the commercial cleaning company you choose for your building's maintenance needs.
Schedule Your Next Appointment
If you need to have your building's carpets cleaned, we are ready and waiting to hear from you. Contact us today to learn more about our carpet cleaning services and to schedule your next appointment with our professional cleaning team. We look forward to hearing from you soon.
---
At Interstate Contract Cleaning Services, we offer carpet cleaning services in Charlotte and Raleigh, North Carolina.